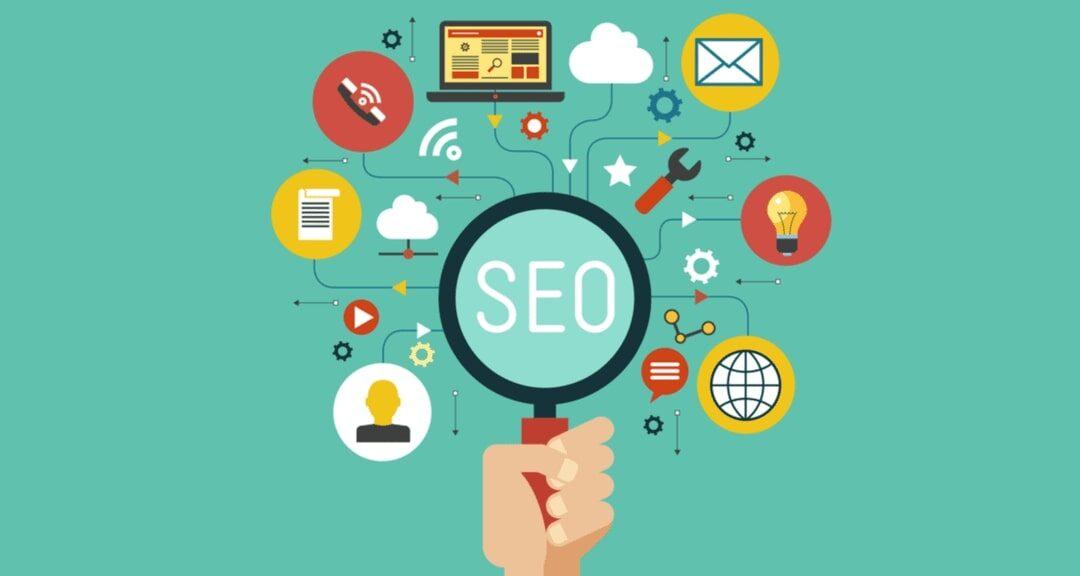 Do you ever get the impression that SEO is like shooting at a moving target?
Since Google makes hundreds of changes to their algorithm every year, an SEO approach that was effective last year (or even last month) may no longer be sufficient this year.
When traffic to your once-popular website drops for no apparent reason, it may be very disheartening. There may have been changes to the way Google ranks content, which could explain why you're seeing a significant drop in organic visitors.
Fortunately, we're here to help you out with 5 tried-and-true best SEO techniques for your industrial business, from the ground up:
1) AI Tools for Content Writing
Making use of AI to craft your content is one SEO tactic that will only grow in popularity in 2023.
Articles, blogs, landing pages, email content, ad copy (Facebook Ads, Google Ads), video descriptions (YouTube), product descriptions, job descriptions, and more are all examples of the types of writing that can be aided by an AI-powered tool.
Generative Pre-trained Transformer (GPT-3) is a "autoregressive language model that leverages deep learning to produce human-like prose," and AI content creation is the act of employing this technology to generate original, relevant material for your intended audience.
Blog articles (and other content) of increasing quality and keyword optimization can now be produced in bulk by means of these ever developing AI-powered writing tools.
With these AI writing assistants growing more and more precise, they can help you save time and money, making this SEO approach to content marketing increasingly popular and is one of the best SEO techniques for your industrial business.
Some of these programmes employ AI to help you improve your writing by analyzing your topic, finding relevant information, and recommending improvements like new headers or sections.
An AI Writing Tool, for instance, can do the following when asked to compose a blog post:
Suggest material that might be of interest to the readers.
Make a synopsis and framework.
Create a few different options for the article's title
Give us a rundown of the points you'll be making in your listicle.
Create your preface, postface, and all intervening paragraphs.
Create a meta description for your article.
2) App Store Optimization for Mobile SEO
One form of search engine optimization (SEO) is app store optimization (ASO), which aims to improve a mobile app's visibility in the app store's search results. The purpose of ASO is to raise an app's profile so that more people will use it, which will increase the app's downloads and income.
Search engine optimization (SEO) for websites is a good analogy for ASO. Like search engine optimization (SEO), app store optimization (ASO) increases an app's discoverability in app stores like the App Store and Google Play and is definitely one of the best SEO techniques for your industrial business that you don't want to miss out on.
An app can be optimized in two primary ways to increase its discoverability in the app store:
Work on the app's metadata. Everything from the app's name and description to its keywords and screenshots should be included.
Enhance the app's star rating and user feedback. Getting users to post positive evaluations and providing helpful responses to negative ones can help achieve this goal.
3) Implement Content Optimization Right Away
Search engine optimization, or SEO, is typically thought of as a process that involves generating content frequently, focusing on new keywords, and acquiring links to those pages.
Optimizing your existing content, a technique known as "content optimization," however, is a more deliberate way to enhance your organic traffic.
Among the goals of content optimization is the enhancement of a page's meta tags and this can be achieved by implementing the following:
Using the right keyword density for both major and secondary terms
An appropriate word-count. Neither too long, nor too short.
Making the content readable.
Optimal use of meta title and meta description
4) Increase Your Dwell Time
For years, SEO experts have wondered how much weight Google's user experience algorithm actually carries. While we've always known that a well-organized site, one that loads quickly, and one that caters to mobile users' needs would all help boost our rankings, it wasn't until lately that we saw any real movement in these areas.
In case you hadn't guessed, the all-powerful Google has flipped the switch again, elevating one component of user experience to the forefront of their arsenal of ranking factors: dwell time.
Dwell time is the amount of time that passes between clicking one of the search results and heading back to them. It's not the same thing as bounce rate, time on page, or any other metric in Google Analytics.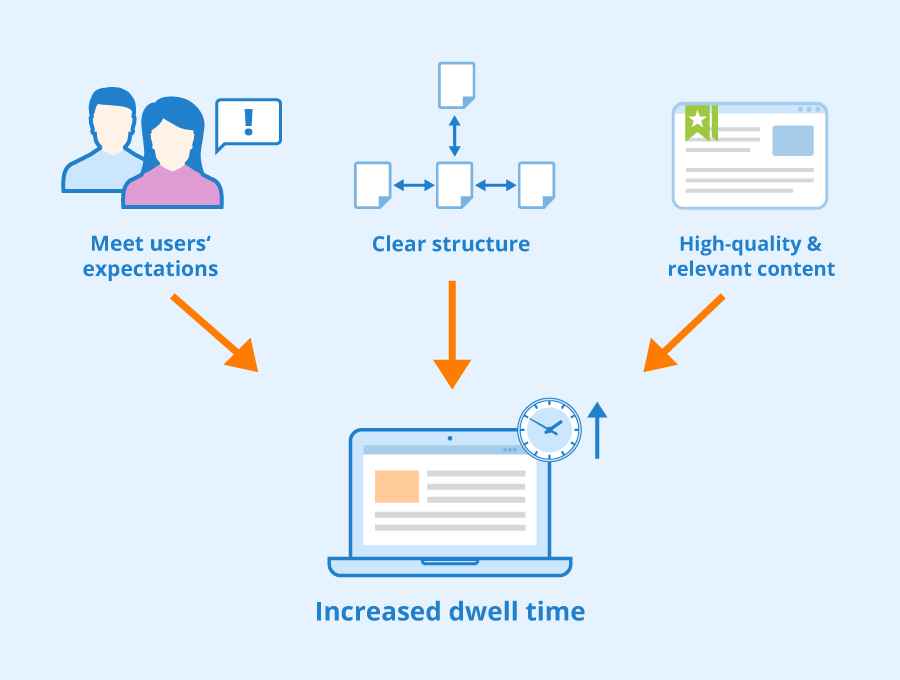 The percentage of users that view a page only once and then exit without taking any further action is the "bounce rate," which is different from the amount of time users spend on that page.
To be more precise, it is the ratio of sessions where only one page was viewed to the total number of sessions for your website (or an individual page).
Dwell time is not the same as time on site because the latter can include visitors who did not use a search engine to get there. Dwell time is the SEO child of the more traditional metrics like bounce rate and total time on site.
5) Focus on Topic Clusters Instead of Keywords
Google's algorithm is constantly changing as it adapts to new features and user preferences.
Now, the company wants to know how to read its consumers' minds, so it can anticipate their needs and provide them with the most relevant search results.
Yet, just because you optimise your content for specific keywords doesn't mean it will automatically rise to the top of search engine results pages. Key words aren't enough; we also need to consider the larger picture. Pay close attention to what it is that your users are trying to accomplish, sometimes known as their "user intent."
1. Know Your Target Audience
Your intended readers will determine the information you produce. Knowing your audience better in terms of demographics (geography, age, interests, etc.) will help you produce more relevant and engaging material (and the better your SEO).
2. Organize Content into Clusters
Don't just target individual keywords; group related topics together. HubSpot's topic cluster model accomplishes its task by grouping related pieces of material into clusters.
There are three goals that can be met using this approach:
It accomplishes the goals of the user because they can quickly and easily find additional information on their preferred topic, and it is presented in a way that is easy to understand.
It makes your site a more reliable resource for those central themes. Google values this information because it helps them direct consumers to the most relevant results.
If Google considers your site to be an excellent resource on a given topic, you will likely see an improvement in your search engine ranks.
Each of those cluster pages can rank on its own and bring in more visitors.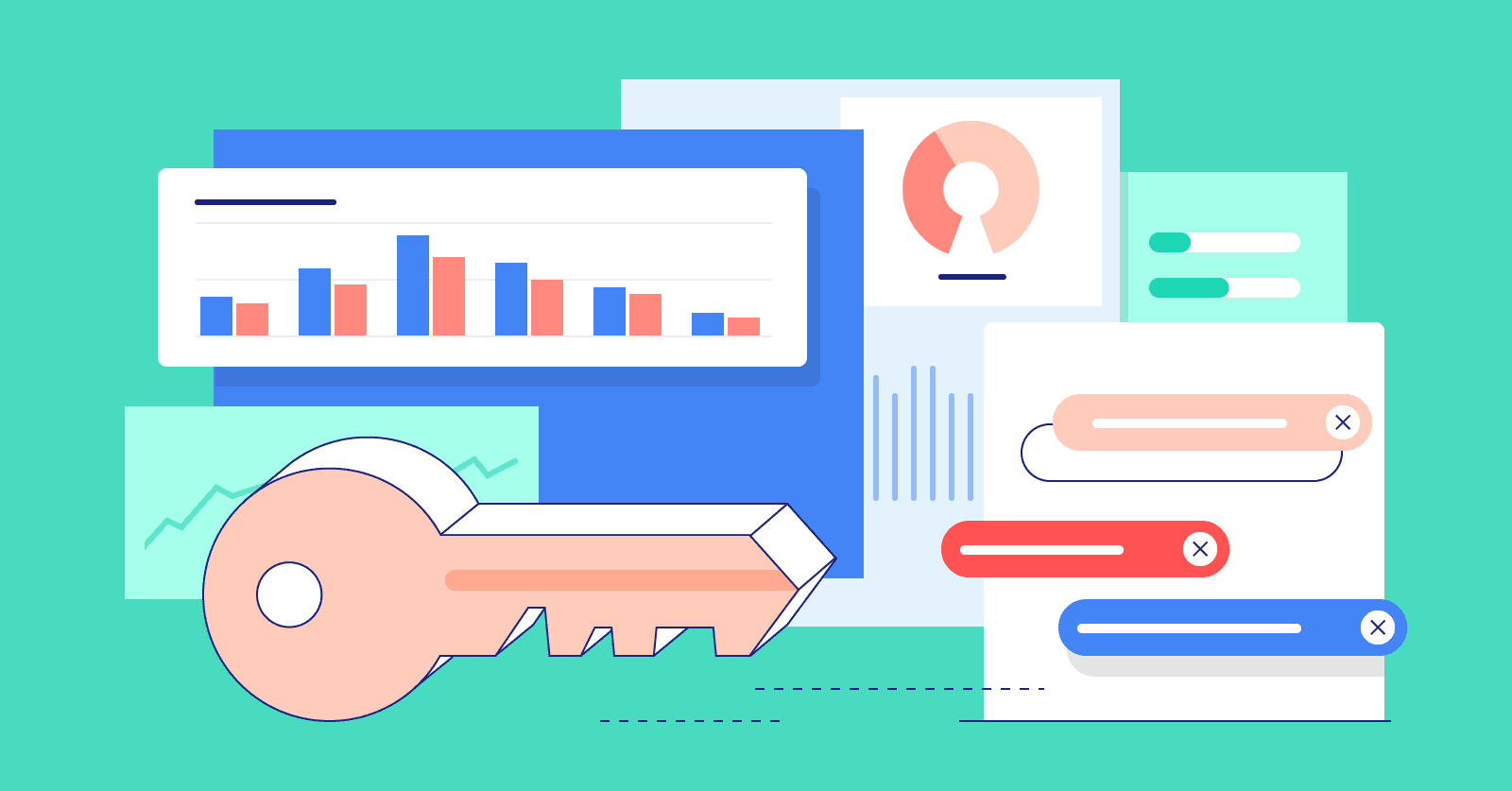 3. Do Your Keyword Research
You might be confused by the fact that we still recommend keyword research as an SEO tactic although we've previously instructed you to prioritise concept clusters above individual keywords.
Simply put, keywords still count.
Keywords are often overlooked in favour of thematic organisation of material. Google's spiders use keywords as guides, as they indicate subjects and give suggestions as to the nature of the content on a website.
By conducting keyword research, you can learn exactly who is interested in the content you want to produce. This makes it much simpler to design blog posts and other material that directly addresses the needs of your target audience and builds your brand.